Basil - Ocimum basilicum
Growing and Using Herbs
How to Grow Basil
- Herbs
Half hardy annual
To 30cm tall and wide
Sow seed: Jan - May
Split supermarket pots from spring to autumn
Full sun, some shade on a windowsill.
Herbs: Bay | Chives | Mint | Oregano | Parsley | Rosemary | Sage | Thyme | All
A fabulous herb, though one that I've never been able to grow to any worthwhile extent outdoors. It likes a temperature, degree of protection and level of sunlight that is just not easily found outside in the UK. It will grow, but not not enough outdoors to give enough for culinary use, maybe if you live in the south and can give it protection from wind as well as a sunny warm position you may have some success. Instead I buy it in pots from the supermarket which I split into 3 or 4 further pots and then grow on for a few weeks before using. Grow it on the kitchen windowsill during the brighter months, there's not enough light in winter for it to grow well, it just about hangs on but doesn't make enough new leaves to use.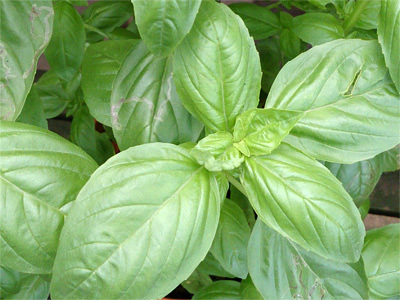 Lore
Basil is a herb for purification, love and money. Put a piece of basil in each of the four corners of your house at the beginning of each season to bring wealth. If you grow basil in your garden, you need to shout and scream at it to make it grow into a strong plant.
It also symbolizes love. At one time young girls would place some on their windowsill to indicate they were looking for a suitor. In Tudor times, small pots of this were given by farmers' wives to visitors as parting gifts. It is also reputed that any man will fall in love with a woman from whom he accepts some basil from as a gift.
Can be used as snuff to cure headaches.
---
Basil seeds and plants to buy
---