Garden Plants, How and where to grow them - Flowering Shrubs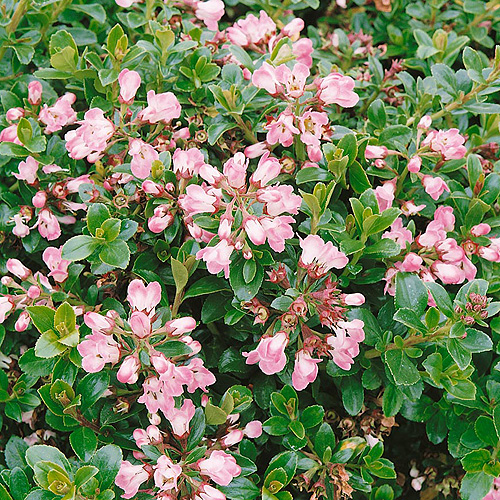 Buy Escallonia plants
Escallonia
Masses of pale apple-blossom pink, tubular flowers from June to September and glossy, dark green leaves. This compact, bushy, evergreen shrub is ideal for a sunny, shrub border or for growing as a flowering hedge, variety "Apple Blossom" recommended.
---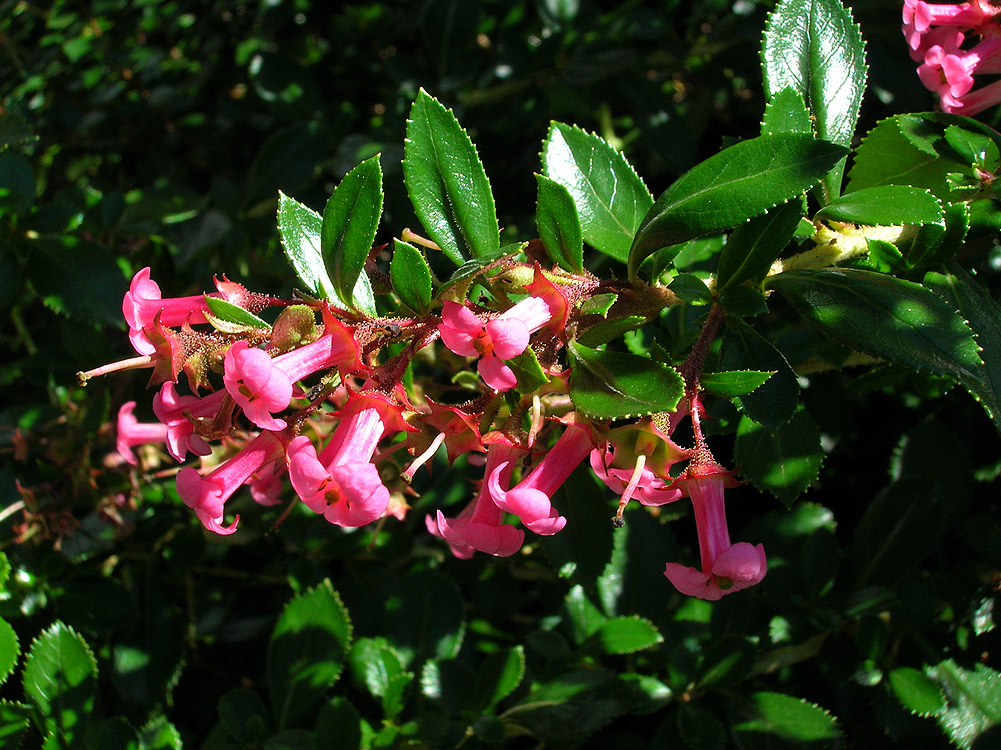 Chose a site sheltered from cold, drying winds since it's extremely susceptible to severe wind-chill.
Height and spread:

2.5m x 2.5m (8ft x 8ft)
Soil

: fertile, well-drained soil
Flowering period:

June to September
Flower colour:

pale apple-blossom pink
Hardiness

: frost hardy, not suitable for very exposed positions
Garden care:

Deadhead regularly to prolong flowering. In mid- or late spring lightly cut back any shoots that spoil the symmetry of the plant. After pruning apply a generous 5-7 cm (2-3in) mulch of well-rotted garden compost or manure around the base of the plant
Uses:

Specimen / Hedging / mixed border
Planting distance when used for hedging:

45cm, 18"
Clipped height:

1.2-2.5m, 4-8ft
Number of times to clip per season and when:

1, immediately after flowering
Pruning:

Usually requires minimal pruning if not grown as a hedge, cut back after flowering or by autumn at the latest.
Responds to renovation?:

Yes, cut whole plant or 1 shoot in 3 back to 30cm, 12" of ground in spring.
---
Questions about Escallonia
Q. My mum has a large Escallonia in her garden that has masses of pale pink flowers which we think is Escallonia apple blossom. At a fair she brought another 2 smaller ones. On planting them, they have flowered and are a much darker pink, and we think these are pink princess. Are there any other kinds with different coloured flowers we could try?
A. There are a number of varieties from white to deep pink in colour:
Escallonia 'Apple Blossom'
Escallonia 'Donard Seedling'
Escallonia 'Everest'
Escallonia 'Iveyi'
Escallonia laevis 'Gold Brian' (PBR)
Escallonia laevis 'Gold Ellen' (v)
Escallonia 'Peach Blossom'
Escallonia 'Pride of Donard'
Escallonia 'Red Dream'
Escallonia 'Red Elf'
Escallonia rubra 'Crimson Spire'
The golden ones have yellow/gold new leaves, but standard coloured flowers.

---
---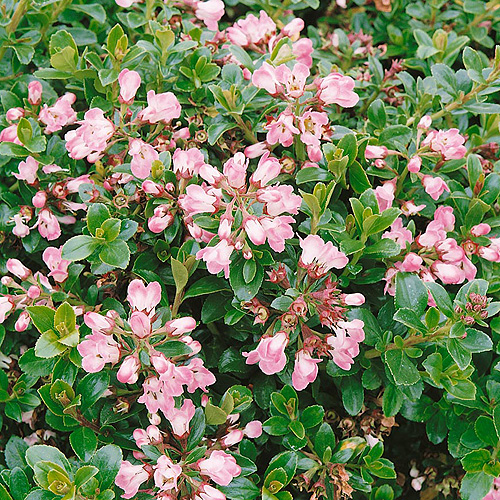 Buy Escallonia plants
Photo credits: (numbering left to right top to bottom) 1-Forest Kim Starr - Creative Commons Attribution 3.0 Unported license. / 2-Forest Kim Starr2 - Creative Commons Attribution 3.0 Unported license. / 3-peganum - Creative Commons Attribution 2.0 license.
---