Daffodils and Narcissi are harbingers of spring they are the Labrador puppies of the plant world - how can you not have any?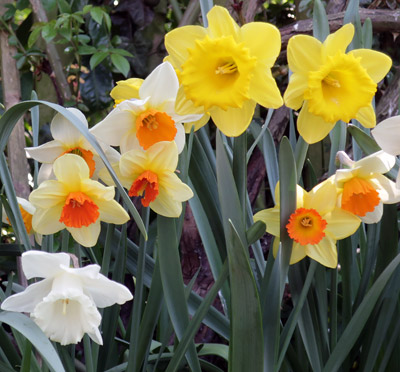 Daffodil and Narcissus Bulbs
Hardy perennial

Flowers: February - April

Full sun or part shade

Plant August - November

other spring bulbs:
Crocus | Hyacinths | Tulips
---
Daffodil or Narcissus? - The botanical name is Narcissus and so all daffodils are also narcissi. Daffodils are narcissi with long trumpets and are wholly or mainly yellow in colour though can be almost white.
Depth - 4-6" of soil above the top of the bulb, less in clay, more in sandy soils.
Cultivation - after flowering, remove seed heads, in containers water once with double strength liquid fertiliser, plenty of it to reach the bulbs and roots.
Let the leaves die down naturally - don't tie or cut the leaves, this is when the bulb is built up again for next years flowers. Leave at least 6 weeks, if possible don't touch them at all until they are completely brown and shriveled and can be pulled up with little resistance. In grass don't mow for at least 6 weeks after the last flowers, longer if possible.
---
---