Parsley- Petroselinum crispum
Growing and Using Herbs
How to Grow Parsley
- Herbs
Hardy annual / biennial.
45cm tall and wide, seed heads to 1.5m.
Best grown from seed Apr-Jul.
Harvest regularly to prevent seeding.
Seeds are also useful.
Full sun or semi-shade.
Herbs: Basil | Bay | Chives | Mint | Oregano | Rosemary | Sage | Thyme | All
Parsley is an annual or biennial meaning it grows from seed and then flowers and sets seed the same year or sometimes grows large in the first year to flower and seed from spring in the second year. It is best grown from seed each year and is easy to do so. Best grown in the ground rather than grown in containers if you don't have a vegetable patch, a sunny gap in the garden will do fine, maybe where spring flowering bulbs were. Flat leaf in particular has a lax habit and sprawls which looks especially untidy in pots. Later sowings can be kept under shelter if you have it, a cold greenhouse over winter or conservatory.
Parsley can run to seed if too dry and in hot summers, the seeds themselves have a number of uses. If you aren't going to use the seeds, pull them up when they start to flower as they rarely produce many more leaves and get very tall and tatty.
Parsley has a lovely flavour of its own that you can appreciate more if you grow your own in respectable quantities to use to make a pesto, in tabbouleh, in gnocchi and of course parsley sauce for ham and fish. It can also add depth and richness to dishes such as stews and soups without so much of a defined parsley flavour.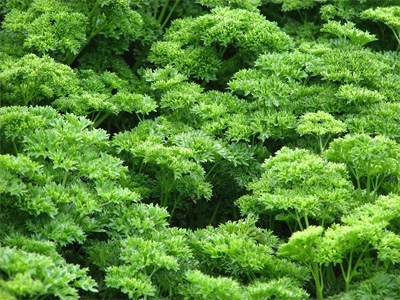 Curly parsley is possibly the most attractive for use as a garnish, but for flavour and certainly for ease of growth and productivity I grow flat leaf parsley. It is usually a biennial in the UK but grown as an annual. Pesto and tabbouleh use loads of it, I also cut it fairly coarsely and add it to green salads as another salad leaf. \Freezing works well with this too so there is parsley through the winter for sauces and stews.
Lore
Parsley is traditionally associated with death and disaster.
Bad luck will come your way especially if you cut some for your cooking and you are in love at the same time, or transplant it, or give it away.
Like rosemary, it is reputed to grow best if the woman of the household is dominant. It was associated with death by the Ancient Greeks who dedicated it in funeral rites and scattered it on graves. It was also woven into crowns for victors of sporting games (and fed to the chariot horses before the races).
It is also believed that babies could be discovered in parsley beds, and that unmarried girls could put matters to right if they chewed parsley three times a day for three weeks. When scattered in fishponds it can reputedly heal sick fish too. The Romans used to line their graves with Parsley to keep the Devil away, and also to avoid their plants falling into someone else's hands as this was considered to be like throwing luck away. In Britain it was also once believed that to sow parsley was to encourage the conception of children.
According to my granddad, parsley seeds take so long to germinate because they have to go to the devil and back seven times first.
---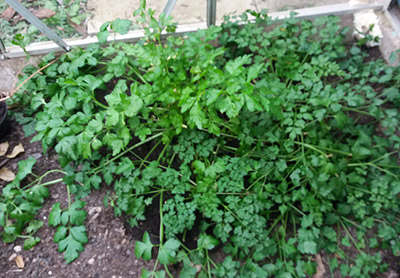 Flat leaved parsley in the ground my greenhouse in January, there are 4 plants here and we'd picked quite a lot already
---
Parsley seeds and plants to buy
---