Foolproof Plants
If you can't grow these (assuming you're not too beastly to them), then all that is left is cress on blotting paper or mould in the fridge.
I know it's asking for trouble describing plants as foolproof but
I've seen all of them thriving in all sorts of places and on awful soils, the only place they might struggle is in water-logged soils. If the plant is described as "drought tolerant", then don't bother trying it in those conditions.
---
Buddleia davidii - Butterfly Bush Shrub
Medium to large shrub, fast growing (stand well back) covered in fragrant purple cone-shaped inflorescences 4"-12" long in summer that are in turn frequently covered in butterflies. Flowers of different varieties come in shades from white through lilac to quite dark purple with pinks too. There's also an orange flowered variety B. globosa with golf-ball sized and shaped inflorescences. The star of the group for my money is Buddleia alternifolia, though not as tough or quick as davidii.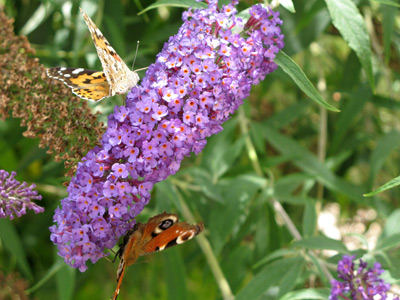 ---
Alchemilla mollis - Ladies mantle* Perennial
A clump forming perennial with softly hairy pale green leaves that hold drops of water beautifully after rain. Unusual tiny greenish yellow flowers borne in great quantity from early summer to early autumn. Excellent ground cover and good for cut flowers. Drought-tolerant. Very easily raised from seed.
*Something to do with firming of the bosom apparently, though what you do to achieve the supposed effect I don't know.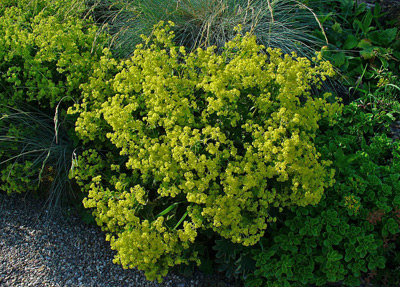 ---
Campanula carpatica - Bellflower Perennial
Campanula poscharskyana Perennial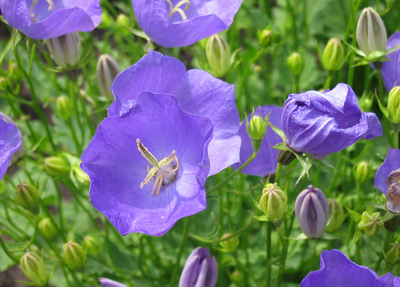 Campanula carpatica - Pretty blue bell-shaped (hence Campanula) flowers. Good ground cover in sun or partial shade, to 12".
C. poscharskyana - not as tough as carpatica or as easy to find. Better grown in partial shade, remarkably drought tolerant and I like the name (practice saying it). A creeper, low growing to about 4", will "flow" up and around obstacles in a most satisfactory way. Flowers of lilac-blue.
---
Cotoneaster spp.* Shrub
A largish group of shrubs of various habit from prostrate ground cover to tall arching tree-like species. Some deciduous and some evergreen. Pretty tough as a group and withstand dry conditions (once-established). Most have white or pinkish-white flowers in spring followed by autumn / winter berries the colours of which vary in different species.
C. horizontalis - I tend to regard this one as a bit dull but worthy, but maybe I just don't know better. OK as a odd one in a mixed display, but rather over-planted by housing developers on new estates. Low-growing, deciduous, millions of red autumn berries, herringbone pattern to the branches, to 3ft tall. Can be successfully grown upwards as a wall shrub.
C. lacteus - vigorous evergreen to 12ft, dense foliage so good as a hedge, red berries.
C. rothschildianus - vigorous evergreen to 15ft, a good inclusion to a mixed hedge. Slightly unusual but very attractive golden yellow berries.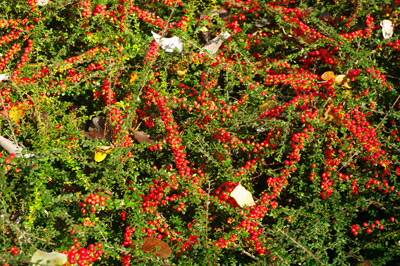 ---
Fuchsia riccartonii Shrub
Hardy upright fuchsia covered with small pink and purple flowers, to 6ft + if you let it, can be used for informal hedging.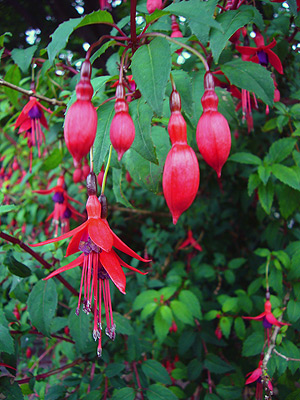 ---
Geranium - hardy species - Crane's bill* Perennial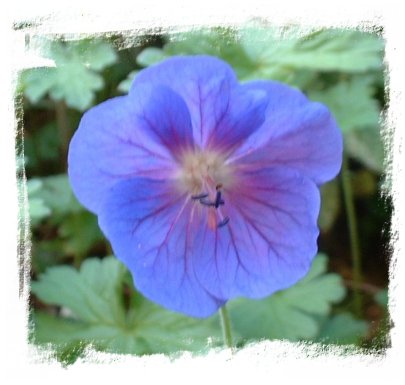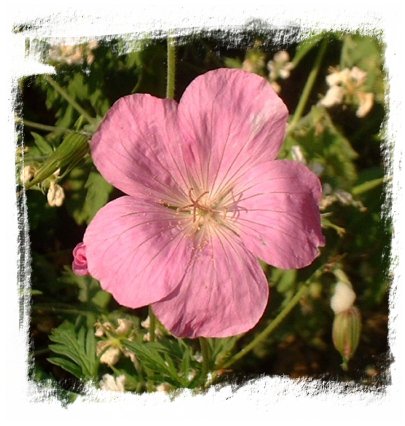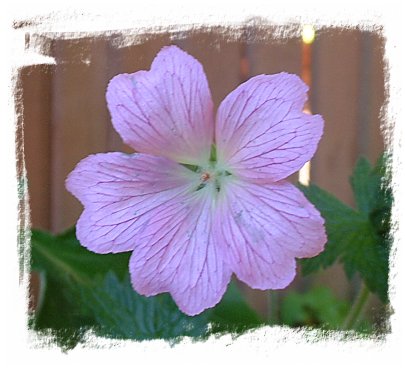 These are not the red and pink half-hardy summer flowering plants that have metallic smelling foliage frequently referred to as geraniums, those are called Pelargoniums.
Hardy geraniums differ in that they are first of all, hardy, and generally have flowers in shades of pink and blue that are borne in small groups. They are also some of the prettiest and most useful additions to the garden.
There are dozens of varieties, and are one of the types of plant that some people go barmy over and fill their garden with hundreds of different types of the one plant. They're good as ground cover with several species rooting as they go.
G. grandiflorum alpinum - very pretty mid-blue flowers to about 12"
G. phaeum - Mourning widow. - Lilac to purple, not the most spectacular flowers in the world but the bees certainly appreciate them. Tolerate deep shade like little else will. To about 24".
Geranium Macrorrhizum - pink-purple flowers in a variety of named forms, all good.
*when the petals fall off the flowers, the remaining seed pod resembles a crane's bill (and head).
---
Hemerocallis - Day Lilies Perennial
Individual flowers last about a day, but they come thick and fast. Numerous varieties usually in hot colours from yellow through reds and orange with some pinks. Arching strap-like leaves, flowers 10" to 36" tall depending on variety, spread to about 3ft, an excellent addition to mixed borders. Tall orange ones are meant to be the most reliable. A recent introduction "Bonanza" has longer lasting flowers and needs less space.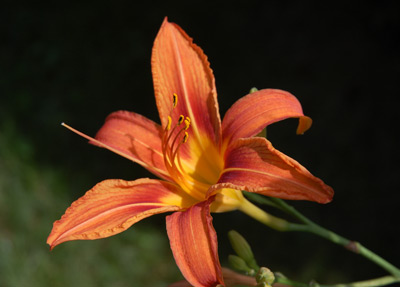 ---
Photinia x fraseri "Red Robin" Shrub
An upright foliage shrub, evergreen, with bright red new foliage at ends of shoots in spring. Leaves remain red for a considerable time turning green as they age. Best colour obtained in full sun. Can be used for hedging, though pattern of coloured foliage is lost rather when the hedge is clipped. Not for the most exposed conditions.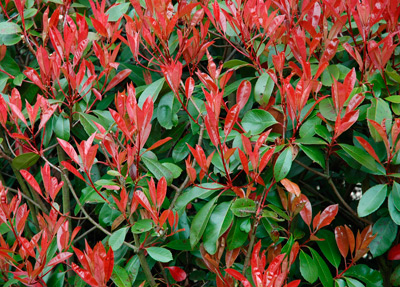 ---
Prunus laurocerasus - Cherry laurel Shrub
Large dense, bushy evergreen shrub. Long glossy leaves to about 6" long, dark green above, lighter below. Fragrant white flowers produced in spring. Makes an excellent hedging plant that is more readily kept in check than conifers, also whereas conifers rarely if ever grow from brown wood, even old established laurels will respond to a severe pruning by producing fresh green growth from mature brown wood that hasn't seen direct sunlight for years. Within a year or so, you will be rewarded with a new curtain of attractive foliage.
Don't trim with shears, you'll cut through the large leaves causing them to turn brown at the edges. A smaller variety "Otto Luyken" grows to about 3ft tall and wide and is suitable for inclusion in a border.
Tough and hardy, a single plant may be grown as an informal wind-break or at the back of a large border where the dark green leaves set off other foliage and flowers admirably. Good as a sound absorber too against road noise.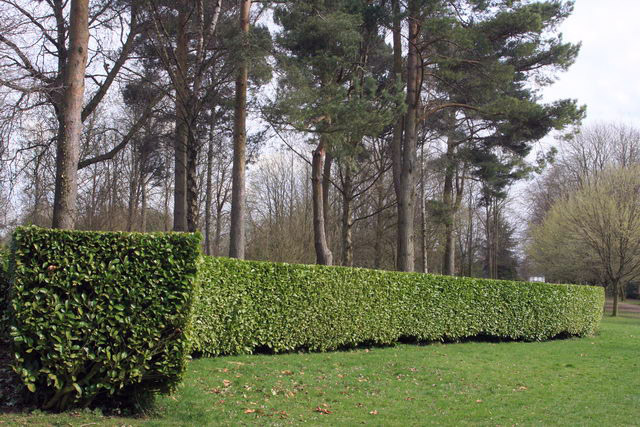 ---
Pyracantha - Firethorn Shrub
Upright evergreen shrub with white spring flowers and autumn / winter berries of various shades, (depending on variety) of red, through yellow and golden yellow to orange. Viciously thorny and makes a good burglar-proof hedge or spot planting against vulnerable downstairs windows, fences etc. Can be grown as a free-standing shrub or trained against a wall or fence.
Easily trained and takes hard pruning well, effective as an informal hedge. One of my favourites is a golden yellow berried variety growing against an old house that is painted a sympathetic shade of yellow-earth - an inspired planting. Withstands some shade and reasonably tolerant of soggy soils.
---
Saxifraga x urbium - London Pride P
Rosette forming vigorous evergreen ground cover plant about 3" high. White flower panicles flushed with pink to about 10" in summer. Spreads reliably even in poor soils, needs some shade.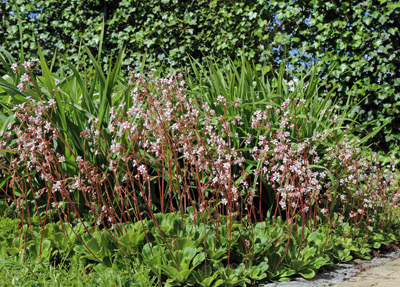 ---
Sedum spectabile - Ice plant* P
Clump forming deciduous perennial. Fleshy pale green leaves. Large flat pink-red compound flowers in late summer - early autumn, much loved by bees and butterflies. Tolerates drought once established, every garden should have at least one. The leaves make a good contrast against grasses / gravel / rocks / wood etc. To 18". Easy to propagate by stem cuttings in spring or autumn.
Buy Sedum spectabile / ice plant
*No idea why it's called the "ice plant.", In the Victorian "language of flowers", giving someone this plants means "your looks freeze me" but I'm not sure whether this led to, or arose from the name.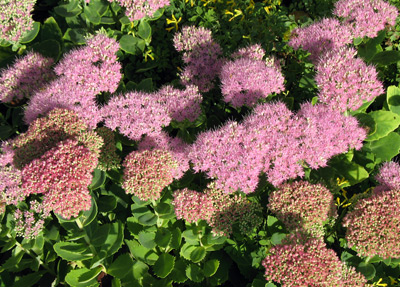 ---
Vinca major - Periwinkle Shrub
Ground cover plant that can be plain green or have variegated leaves, both with blue spring / summer flowers. To about 20" tall, spread indefinite, roots as it goes. Very tough once established, and tolerates sun or shade. The plain green leaved variety is the most vigorous and will grow in shadier places, the variegated variety shows best colour in the sun, in the shade it may revert to plain green.Vinca minor is equally unfazed by novice gardeners or shade, will confine itself to about 8" and a much reduced spread.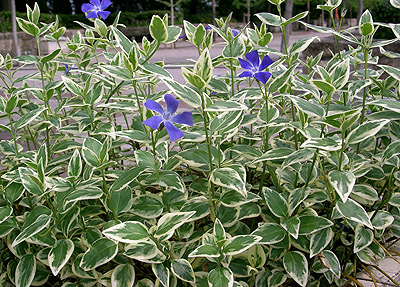 ---
Viburnum tinus Shrub
Bushy dense evergreen shrub eventually to about 10ft tall and wide. Fragrant white flowers borne over a long period through winter and spring, followed by blue/black berries. Tolerates a fair amount of shade and can be hard pruned.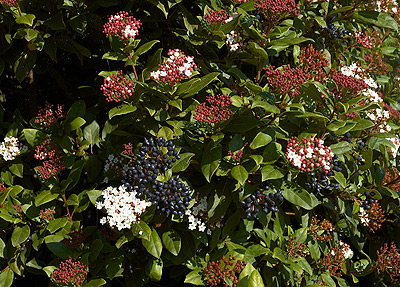 ---
Picture credits:
Alchemilla mollis
- H. Zell - Creative Commons Share and Share Alike Attribution 3.0 Unported license |
Buddleia
- Attaleiv - Creative Commons Share and Share Alike Attribution 3.0 Unported, 2.5 Generic, 2.0 Generic, 1.0 Generic licenses |
Fuchsia ricartonii
- Magnus Manske - Creative Commons Share and Share Alike Attribution 3.0 Unported license |
Hemerocallis
- Thomas Good / NLN - Creative Commons Share and Share Alike Attribution 4.0 International, 3.0 Unported, 2.5 Generic, 2.0 Generic, 1.0 Generic licenses |
Sedum
- Naamsvermelding vereist - Creative Commons Attribution 3.0 Unported license |
Vinca major
- KENPEI - Creative Commons Share and Share Alike Attribution 3.0 Unported license |
Viburnum tinus
- Wouter Hagens - Creative Commons Share and Share Alike Attribution 4.0 International, 3.0 Unported, 2.5 Generic, 2.0 Generic, 1.0 Generic licenses |
Saxifraga
- Marc Ryckaert - Creative Commons Attribution 3.0 Unported license
---