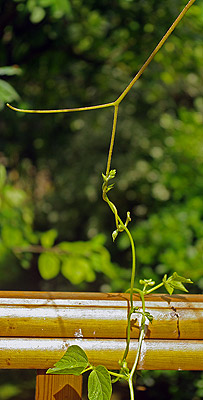 Climbers - Climbing Plants
Climbers are incredibly versatile plants. They tend to grow fairly quickly and do their stuff at about our head height. This means that we don't have to bend over to appreciate them. Unlike other plants that are at our head height such as small trees and large shrubs, they don't take up a huge amount of space.
---
Some of my favourite plants are climbers. From the delicately beautiful and wonderfully scented flowers of sweet peas to the great masses of flowers on Rosa "Kiftsgate" and giant dinner-plate sized leaves of the aptly named "Crimson Glory Vine" Vitis coignetiae in its autumnal splendour.
Climbers just seem to be so "planty". If you think about a lush verdant scene, it usually includes vines and climbers coming down from above. Jungles and lush conservatories look as they do because of all the climbers growing up and hanging down.
Climbers don't need to put as much energy or effort into support as other types of plants. Why make big woody stems and trunks if you can lean on another plant (or trellis / wall / pergola etc.) that has already done it for you?
This means that they can grow that much more quickly, produce more leaves more quickly and produce and keep producing flowers and fruit. As a bonus, all this often happens just about at a height where we can appreciate them.
If you have a garden you can grow climbers, the trick is in choosing the right ones and growing them in the right way, in particular with the right kind of support. They are fairly easy to manipulate into doing what we want them to do and going where we want them to go. Because they need a support and can't grow without the support, they tend to be very obedient in this respect.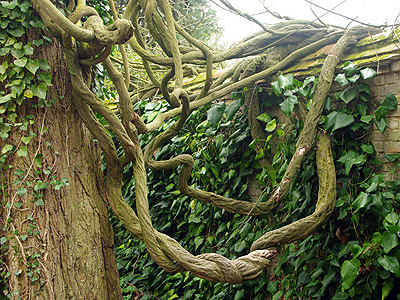 Support
Without something to climb up, a climber becomes a flopper. This may not always be a bad thing as some climbers, ivy in particular are versatile enough to form very effective ground cover. I have also seen Wisteria grown as ground level plants (they need a lot of space!)
Walls and fences are the obvious place to grow climbers but even better is some kind of three dimensional structure such as an arbour or pergola, obelisk, arch or even a tree. Many climbers are the cultivated descendants of wild ancestors that grew either in or on the edge of woodland. They are adapted therefore to grow in three dimensions through trees or shrubs, usually with their roots shaded and moist and their heads in the sun.
---
Quality climbers to grow
As I really love climbers, I find it very difficult not to recommend loads of them, I've been strict with myself and so here are some of the best. Some popular favourites, some less well known. I have all of these in my garden, though just one of the three Parthenocissus species given.
---
---
---
---
---
---
---
---
---
---
---
---
Humulus lupulus "Aureus" - Golden hop - Perennial twiner
A large and vigorous climber that is a relative of the hops used to brew beer.
It is somewhat unusual amongst perennial climbers in the garden in that it dies down completely in the autumn and produces new shoots from ground level each year, this ensures that it doesn't get too out of hand despite its fast growth rate. Lovely bright yellow/green foliage that is lighter the more sun it gets, if grown in more shaded conditions it will be a darker green colour. It provides a the perfect backdrop for a whole range of other plants, particularly the blues of forget-me-nots and Ceanothus, also good with the white flower heads of Spirea.
---
Photo credits:
Clematis tangutica
- Anneli Salo - Creative Commons 3.0, Attribution, Share and Share Alike, Unported license |
Parthenocissus henryana
- Rachida Boutboul - Creative Commons 1.0, Universal Public Domain Dedication
---