Garden Plants, How and where to grow them - Shrubs / Hedging
---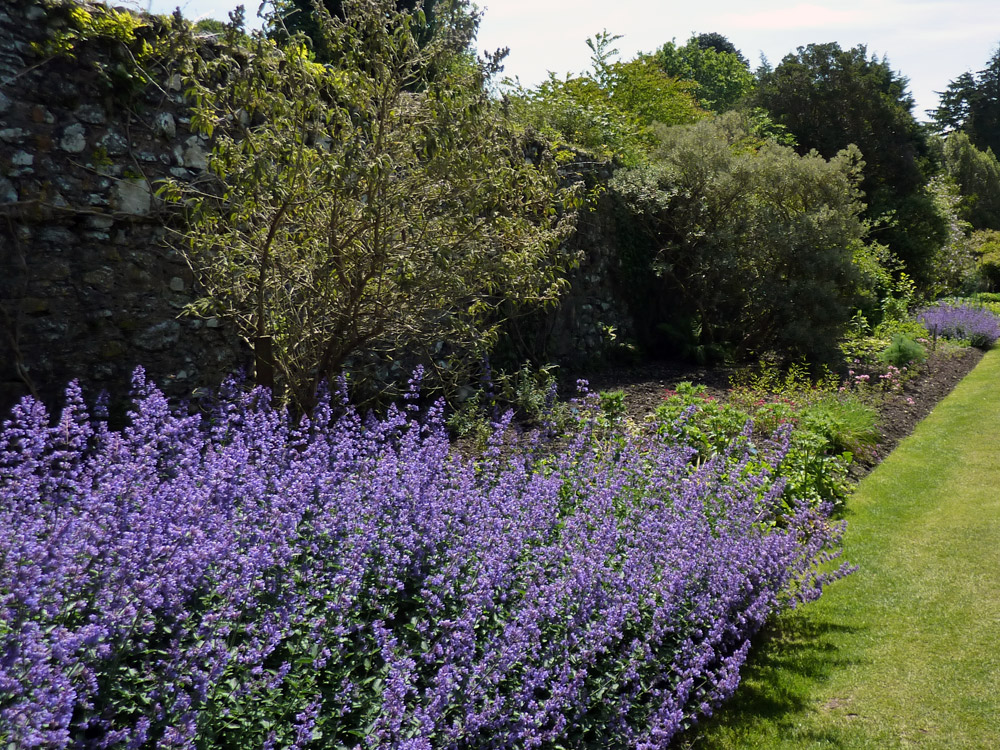 Lavender can cope with cold and they can cope with wet, but they don't like the two together. In their native Mediterranean home, lavenders live in full sun on stony, poor, impoverished soil. In your garden this translates to a sunny, though not necessarily full sun position in dryish soil - near the house or a wall is fine - where other plants would struggle for moisture, lavender will often thrive.
What you get with lavender is dense spikes of fragrant, blue-purple summer flowers and aromatic, grey-green leaves. The species is rather large, frequently available varieties are "Hidcote" and "Munstead dwarf". French lavender Lavandula stoechas is a particularly beautiful variety, though less hardy than most, in particular they don't like exposed windy conditions.
Lavender are excellent plants for attracting wildlife , possibly too much so for some people, don't plant them close to the house or patios if bees are likely to cause panic.

Height and spread:

Hidcote 60cm x 75cm (24" x 30") Munstead dwarf 45cm x 60cm (18" x 24")
Soil

: almost any, but not wet in winter
Flowering period:

July to September
Flower colour

: blue-purple
Other features

: the aromatic flowers and leaves can be used for making pot-pourri
Garden care

: Cut back the stalks after the flowers have faded. Carefully trim back in April, taking care not to cut into old wood.
Uses

- Hedging / mixed border
Planting distance when used for hedging:

30cm, 12"
Clipped height:

0.6-1m, 2-3ft Pruning
Number of times to clip per season and when: 1, after flowering
Responds to renovation?:

No
Pruning

: Deadhead only in autumn, leave pruning until spring so that the young buds can be protected. Young plants can be pruned to promote bushy growth, but regrowth ability diminishes with age. Plants may or may not grow again from old brown wood (tendency decreasing with age). Very large unruly plants are best replaced.
---
Q. Hello, I am aiming to have a lavender hedge around our allotment and each individual bed surrounded by dwarf box. I have bought some small plants of lavender Hidcote and Buxus sempervivens Suffruticosa. To buy enough would cost a fortune . Could you please advise on the best way to propagate from my existing tiny plants.
A. Propagation of dozens of plants from a few will take years. I suggest that you look in the yellow pages to find a wholesale nursery that supplies lavender plants. They are much cheaper if bought in bulk. You should be able to get them as 4cm (ish) plugs or in 9cm pots usually with a minimum order of about 50. They won't deliver for such quantities, collection only. As for your Buxus, a similar situation but slower, it will take you 5-10 years to get a good knitted together dwarf Buxus hedge and that's assuming that you don't attack what you've got for cuttings. I'd recommend that you use what you have as feature balls or pyramids and make a low hedge from Lonicera nitida or even yellow privet trimmed closely unless you really can be patient enough to grow a box hedge..
---
---
---