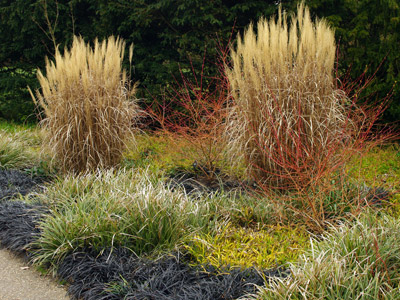 Ornamental Grasses
There are plenty of reasons to have grasses in your garden
Grasses have a subtle beauty, their flowers are wind-pollinated and therefore not bright and showy, but feathery and delicate and usually very much in keeping with the rest of the plant rather than being a brightly coloured button of a flower stuck on leaves of a totally different shape.

Grasses animate the garden with movement and often with sound. The slightest breeze will set their slender leaves and drooping flower heads into motion and cause gentle rustling sounds.

The shapes and colours of their leaves give a excellent contrast to other features in the garden, to broad-leaved plants and their showy flowers or to the materials and textures of wood, stone, gravel, ceramics etc. that we may have in the garden.
These featured plants are recommended as they are reliable in most soils in most regions and are widely available, there are also many other beautiful and worthy grasses to try.
---
---
---
---
---
---
---
---
---
---
Growing tips and care
Most grasses prefer a sunny position, coloured varieties produce their best colours in full sun, if too shady, they will revert to a mid-green colour.

Once established, grasses tend to be trouble free. prepare the soil with organic matter before planting and look after them through the first summer. Thereafter they will need little care other than weeding.

Cut down deciduous grasses in February (these are the ones that turn brown over the winter), this will encourage them to put on a spurt of growth come spring. New growth doesn't look so good when growing through last years old dead leaves.

Evergreen grasses shouldn't be cut back drastically as they can take a while to recover. In spring old tatty leaves with damaged split ends can be trimmed back or removed to tidy the plant up. Also, remove old flowering spikes as they bend or fall over to make way for new.

Many grasses will self-seed, these tend to be relatively short-lived ones which considerately replace themselves for you. Wait until early summer to see what you have when you can pull up the excess plants (pot them up and move elsewhere or give away) and leave the ones where you want them.
---
Propagation
Grasses are generally straightforward to propagate, many can be propagated from seed and almost all can be propagated by division. If you want to make a display of a large number of grasses, such as in the pictures above of of Stipa arundinacea or Festuca ovina glauca and others on this page, this gives you a way to do it without breaking the bank.
Seed;
Stipa arundinacea

Festuca ovina glauca

Stipa tenuissima

Miscanthus sinensis hybrids (though not named varieties)

Carex elata "Aurea"
Seed of some coloured leaved varieties such as Festuca ovina glauca will yield a mix of plants of various depths of colouration, to select the best, prick seedlings out into seed trays, about 15 in each to allow them to grow on and show their colour, then be fairly ruthless about discarding the greener individuals to get the brighest plants.
Division;
Of almost all types is successful. Dig them up when actively growing in spring or early summer and pull carefully apart (this might require some significant effort). They will separate at the naturally weakest region to give two plants with decent root systems, try to pull as far as you can rather than cut them. These can then be planted straight away.
If you wish to build up stocks from container grown plants, then split the plant when the roots fill the pot, with one plant seperating into 3 or 4 offspring, and re-pot, place them in a sunny position and make sure you water them well not forgetting a liquid feed. This can be repeated as many times as necessary, eventually place them in 2L pots and then plant them in the ground when they fill these. This will give you the quickest way to a good sized display of good sized plants.
---
Picture credits: Milium effusum 'Aureum' - Dominicus Johannes Bergsma - Creative Commons Share and Share Alike Attribution 3.0 Unported license | Japanese bloodgrass - Queeste - Creative Commons Share and Share Alike Attribution 3.0 Unported license
---